The ability to connect with your leads through multiple channels is an important aspect of the outbound process which is part of the reason why we created our Amplemarket extension. While the ability to connect with these leads is important, they way that we utilize this feature is far more important so we have created these Linkedin Best Practices. In this article we will cover certain aspects of these Linkedin actions that will help us get the most use out of Amplemarket's extension and keep from being suspended by Linkedin.
Linkedin Volume
If we take a look at our account settings page and view the Linkedin Settings tab, we will see that there are daily limits based on the Linkedin Account that each user has.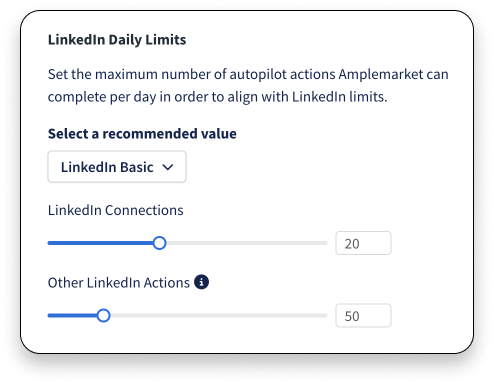 In the above example we can see that Linkedin Basic accounts are limited to 20 connection requests and 50 other actions per day. We view these limits as a maximum amount of actions that can be taken every day, so if we were to hit these limits on Amplemarket and then do some activities on Linkedin after we would technically be exceeding this limit. We also have a handful of other best practices that we can not currently gate for our users. In regards to importing leads into Amplemarket we should try to refrain from importing more than 1,000 leads per day with a free account. If you have a paid Linkedin account please try to refrain from importing more than 2,500 leads per day.
Changes in Activity (Linkedin Warmup)
In the last section we covered the maximum limits that should be performed on Linkedin given your account type, but please remember that we need to work up to this limit, much like we would for email sending. If I were to join Amplemarket with a linkedin basic account where I normally performed 2 connection requests per day and then joined Amplemarket and jumped up to 20, Linkedin would recognize this change in activity and temporarily suspend my account for using automation. Please keep this in mind when performing your Linkedin activities and ensure that we are slowly building up to these daily limits.
Content
Often times we see our users send Linkedin messages or connection requests to supplement the emails that they have been sending to users. This is a totally normal workflow, but please keep in mind that the content of our Linkedin messages and connection requests still need to be carefully crafted. Linkedin, much like Google and Outlook, sees the content of the messages that we are sending and if a pattern is noticed it will increase the likelyhood of being temporarily suspended from Linkedin. Please ensure that we are using dynamic fields and Liquid syntax in our Linkedin messages and connection requests to increase the variation from message to message.
Best Practices
Over the past few months our product and engineering teams have investigated the most common causes of suspensions and how we can avoid them in the future. Below we have listed a number of best practices that we can follow to ensure that we are utilizing Linkedin in the safest way possible.
Automated Actions: When first starting to execute your Linkedin actions with Amplemarket, please ensure that we are not using automatic actions exclusively. When adding in manual tasks we break our sending pattern and it makes it much harder for Linkedin to detect automation. Also, it is best to use manual tasks on new accounts with less than 100 connections.
Account Security: Linkedin tries very hard to make sure your accounts are secure, if they find that multiple people are logging into one account that account will be suspended. Please ensure that we are not using a VPN or sharing our passwords with other members of the team. Also, refrain from making major account changes like Name, Education, or location.
Connection requests: Do not exceed more than 25 connection requests per day. Start at 5 connection requests and increase by 5 after two weeks. Continue with this pattern until we get to 25 connection requests per day.
Messages: Do not send more than 100 messages per day and please ensure that we are taking the time to craft good messages containing liquid syntax and dynamic fields.