The AI Replier is a state-of-the-art AI sales assistant that integrates seamlessly with your email inbox, to help schedule meetings and handle prospect objections. Designed with the modern sales team in mind, the AI Replier elevates productivity by significantly reducing inbox management time, thus allowing reps to redirect their focus towards more strategic, high-value tasks, propelling revenue growth via higher lead-to-opportunity conversions.
Benefits
Cost-effective and time-saving: Our AI Replier offers an affordable and equally effective way to have a dedicated assistant managing all your prospect replies. Get back 3/4 of the time your team is spending managing their inboxes. We've seen reps going from 1h:30mins per day just following up on prospect's to less than 20mins.
More time to focus on higher value-add activities: Use the time saved with the AI Replier to focus your sales team on higher value-add activities like prospecting, campaign building, cold calling, etc.

Better lead-to-opportunity rates: The AI Replier targets and resolves key failure modes in reply management, directly boosting lead-to-opportunity ratios. Here's a brief overview:

Avoiding sub-optimal replies: Instead of varied reply quality, the AI Replier guarantees consistently effective responses, akin to seasoned sales professionals.

Avoiding any lack of perseverance: Where human follow-ups might wane, the AI Replier remains persistent, maximizing every conversion opportunity.

Avoiding any lack of attention: No lead is overlooked. Every prospect gets a timely and optimized response, ensuring no opportunities are missed.

Expedited onboarding: Bringing a new sales rep up to speed typically involves an intensive training process. However, with the AI Replier, you eliminate this learning curve. From day one, your AI assistant is primed to respond as proficiently as an experienced rep. This means new team members can hit the ground running, focusing on refining their sales tactics rather than grappling with email intricacies.
How does it work?
This product uses Large Language Models (LLMs) to automatically draft email replies in the background. These drafts are generated and added to your inbox whenever you receive a reply to one of your Amplemarket Sequences. Watch this 2min demo to learn more about how it works:
The flow is very simple:
🍿 Watch reply drafts automatically pop up on your inbox.

Whenever you receive a reply to one of your Amplemarket Sequences, the AI Replier will automatically add a reply draft for that prospect reply in the mailbox from which you originally sent your Sequence.
As an example: Let's say that I (joao.pena@amplemarket.com) send a sequence from one of my mailboxes (joao.pena@getamplemarket.com). Whenever I receive a reply from a prospect to that sequence, if I log into my joao.pena@getamplemarket.com mailbox, I'll see that the AI Replier has placed a reply draft for me to simply review before hitting send.
✨ Open, review draft reply and follow-ups, hit send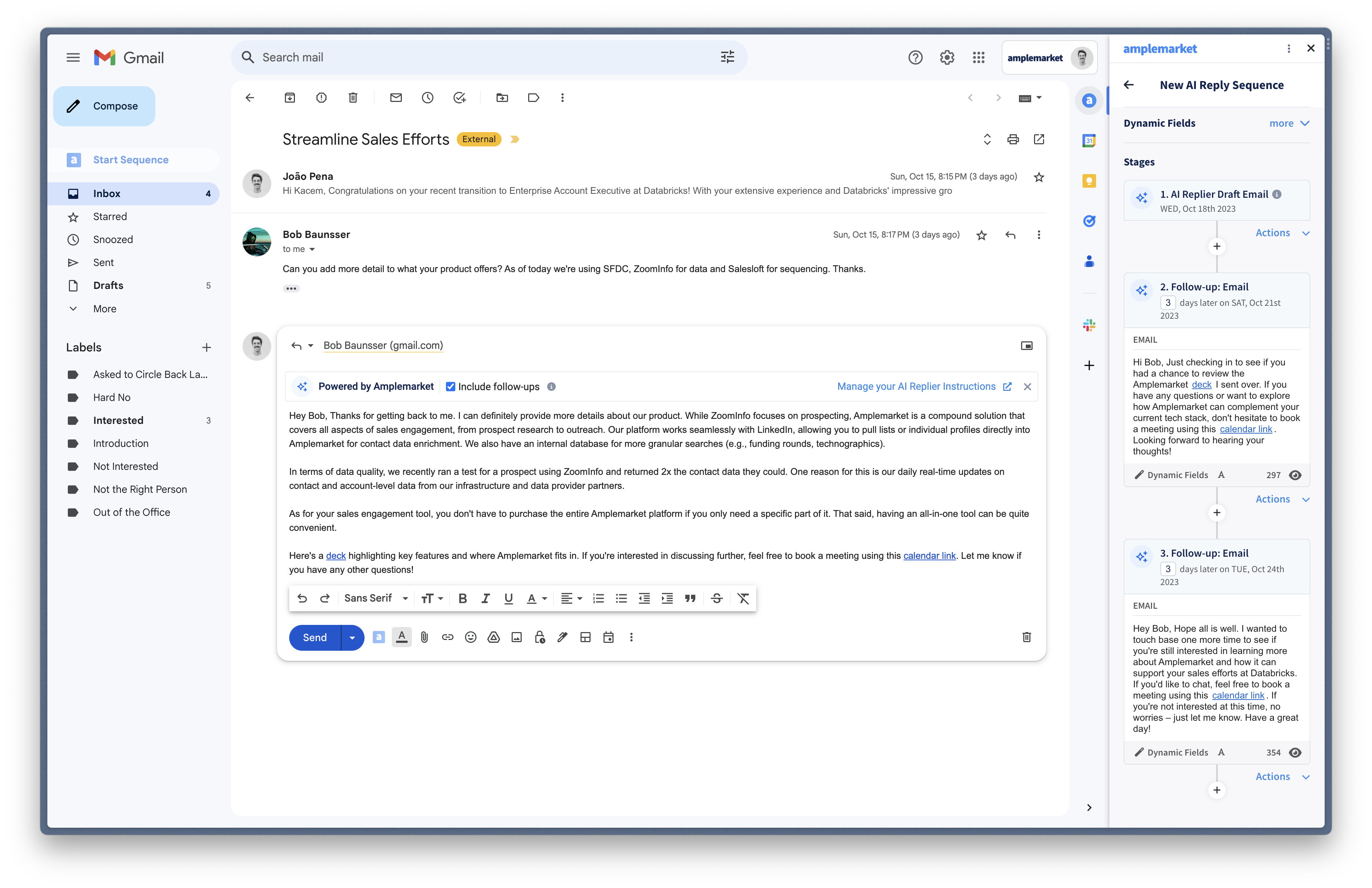 As soon as you open the AI Replier drafts, you'll simply have to review the email reply it generated for you and click send. For increased perseverance, you also have the option to automate follow-up replies in case the prospect doesn't get back to you. If you don't want to use reply follow-ups, simply uncheck the Include follow-ups checkbox.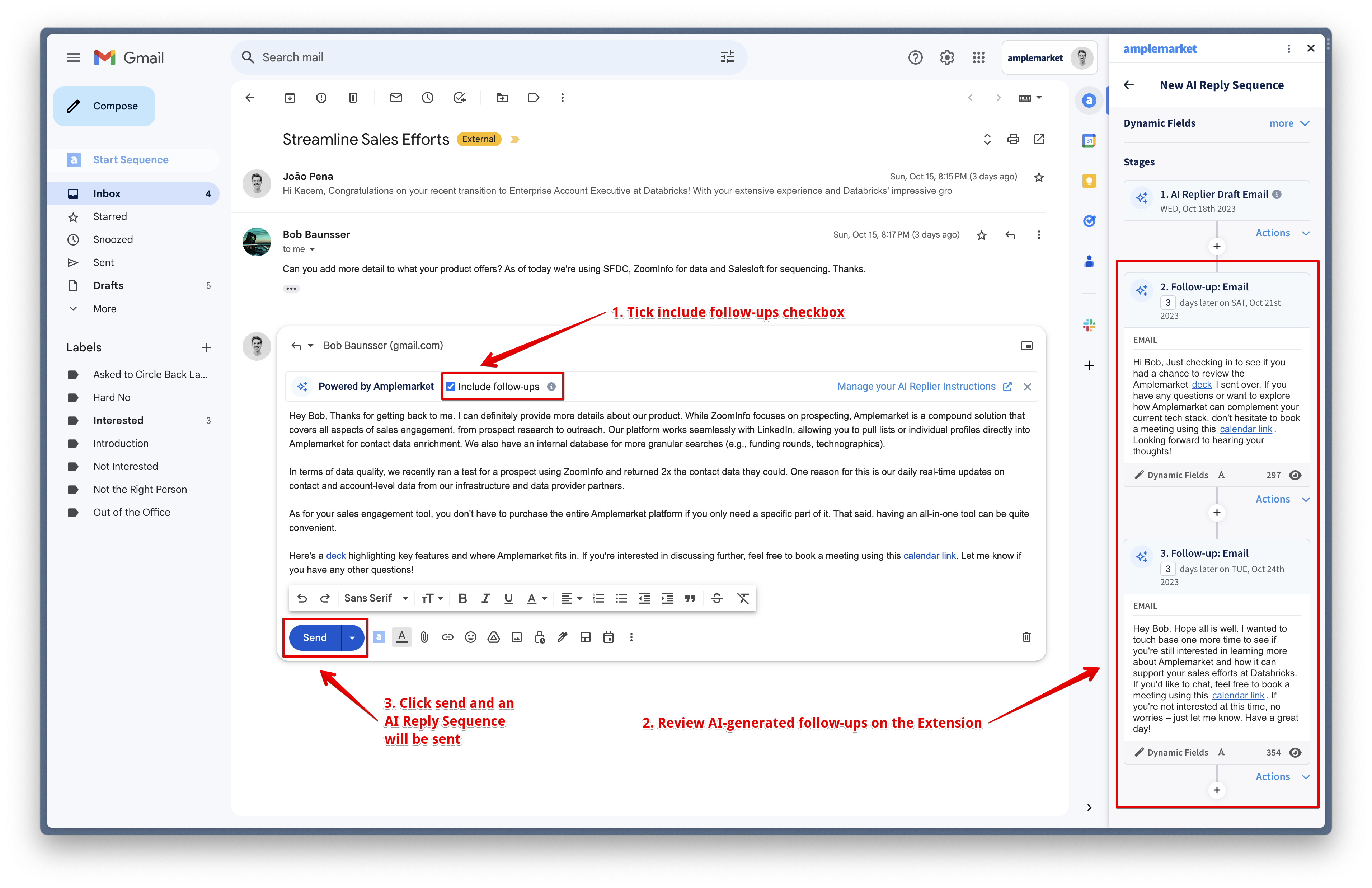 Best Practices
1) Install our Chrome extension
Our Chrome extension will give you access to additional AI Replier features on Gmail like the automatic reply follow-ups (see above) and easier access to the AI Replier instructions (see below).
2) Add Reply Instructions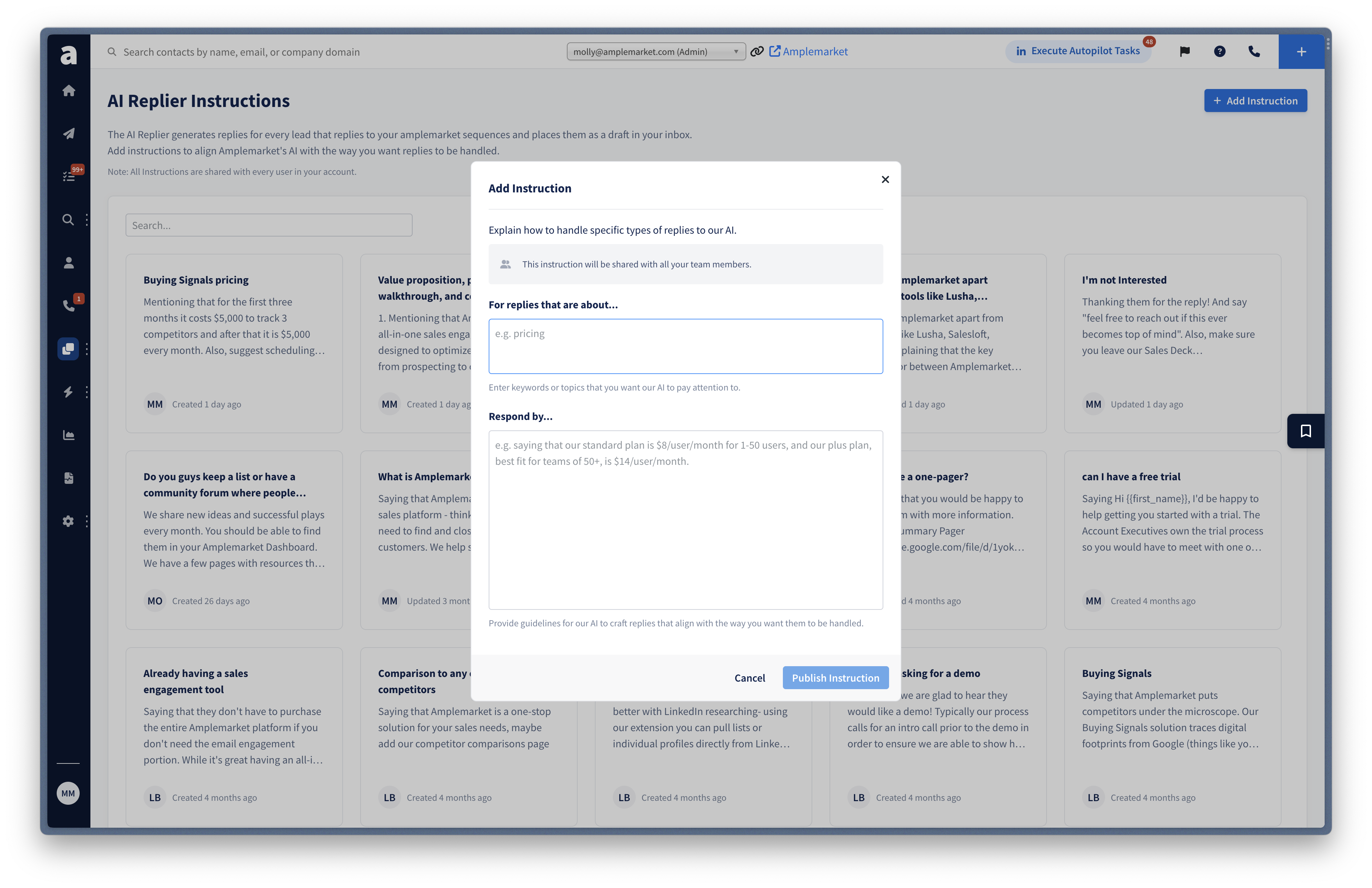 You'll notice that there's an option to add custom reply instructions to the AI Replier. These instructions can be added via the form displayed above, from this page.
The AI Replier works pretty well without any custom instructions (mostly based public information about your company and the context of each email thread), but you'll notice that the quality of the replies it generates for you will significantly improve once you start adding instructions for how to handle specific scenarios.
You can get creative with the instructions you give it - think of this process as if you were giving instructions to a new SDR for how they should handle prospect replies - but some of the most common themes are:
Battlecards for common objections
Comparisons and differentiators against competitors
More detail about your product and specific features
Canned replies to frequently asked questions
Every instruction added will apply to all users.
Enable the AI Replier
This is a premium add-on product. If you would like to enable this to your Amplemarket plan, reach out to support@amplemarket.com.
Frequently Asked Questions
A) Got a reply but I'm not seeing any AI Replier draft
Confirm that the following conditions apply:
Mailbox Connection: Your mailbox must be connected to Amplemarket. Verify this in your settings.

Amplemarket Plan: Your access to drafts depends on your Amplemarket plan. Check with your admin here:

With an Engagement Seat: A draft is generated when you receive a reply to an Amplemarket Sequence sent from your mailbox.
Without an Engagement Seat: A draft is generated when you receive a reply and your mailbox has sent at least one email in the thread.

Recipient Status: You need to be the main recipient of the email. Drafts are not created for messages where you are CC'd or BCC'd.

Thread Draft Limit: A maximum of 5 drafts will be generated per email thread. This ensures the quality of the drafts, as the performance of the AI models may decrease with longer email threads. (Note: The AI's capability to produce quality drafts diminishes with extensive threads, hence the limitation.)
B) Does it support all email clients and providers?
It supports the vast majority of them yes (Gmail, Outlook, Spark, etc). We do not support Superhuman, for instance. From a more technical perspective, we support every client that adheres to the default IMAP structure.
The only difference in the overall experience is that our Chrome extension does not support non-Gmail email clients. That means that in those set ups you won't have access to the 2 AI Replier features that our Chrome extension enables:
1. The AI Replier banner that sits on top of each AI Replier draft on Gmail (see here)
2. The AI Replier automatic follow-ups (see here)