Sender dynamic fields are basic dynamic fields but populated with contact information from the sender.
Basic dynamic fields are populated with information from your prospects. The sender dynamic fields are used similarly but populate the dynamic field with the sender's information (ex. the name of the sender, the job title of the sender, …)
Sender dynamic fields are very useful to make it possible for other team members to use shared reply- and sequence templates. Each team member can pick the shared template he/she wants without needing to adjust the email to their personal information.

You can insert the sender dynamic fields by selecting the "Dynamic Fields" button and selecting the "sender dynamic fields" tab.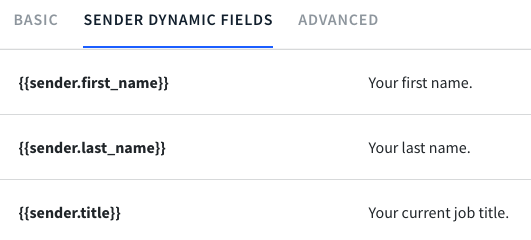 Every team member can set up his/her personal information under the "Account Settings". Amplemarket will use these fields to populate the sender dynamic fields required in a template as explained above.