This tool's job is to scrape everyone who liked or commented on a post or course. This works with your amplemarket extension and allows you to quickly leverage LinkedIn content in your sales efforts.
This list of people is very valuable for lead generation since it is made of people aware of the topic discussed and active in their professional lives. For optimal results, you should combine this flow with a very personalized campaign.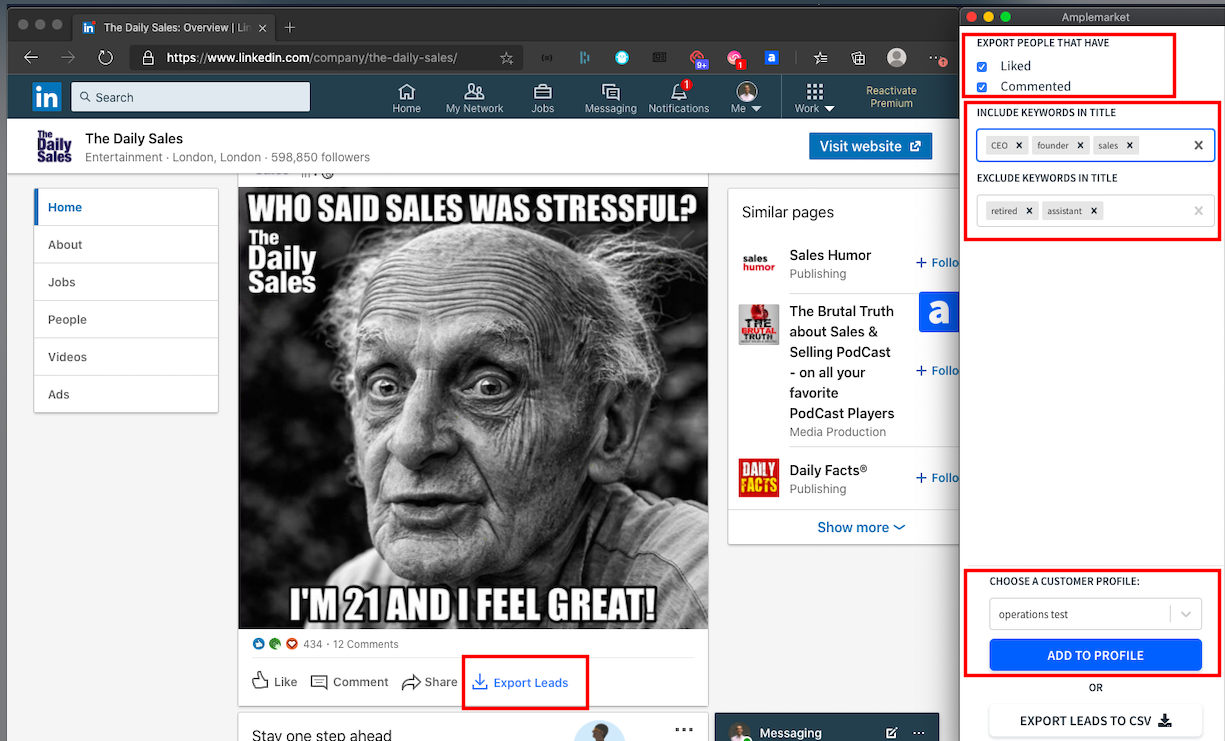 Here are the options you can leverage:
Extract likes only
Extract comments only
Extract both
You can further tailor the audience you'll be extracting from the posts by customizing both the types of titles you want to reach out to, as well as remove the titles you don't want to target.
Include Keywords on title, will extract all linkedin members that have at least 1 of the keywords you add.
Exclude Keywords on title, will remove from the extraction all users that have at least 1 of the keywords you add.
How to integrate that with your sales flow? Just create a campaign based on the content and see how it works its magic, here is an example for amplemarket.
Subject line: hi #{{first_name}}, saw you #{{interaction_type}} #{{original_poster}}'s post
Hi #{{first_name}}, I saw that you #{{interaction_type}} #{{original_poster}}'s post about how "Sales is stressful". 

There's definitely a lot of stress if you have one tool for lead generation, one for email automation, another for linkedin and one just for reminders. Achieving your revenue goals with less stress is exactly what we focus at amplemarket - we help sales reps schedule 2x more meetings with interested prospects and sales leaders achieve their goals :)

Would you have time for a quick call next week? Feel free to book a meeting with me here: #{{sender.calendar_link}}

P.S: I also recorded a video with some of the stuff we do at amplemarket, we can explore this more during the call: Hyper Customized Sales Sequences - Watch Video