The Chrome Extension brings your Amplemarket dashboard closer to your sales activities in your Gmail inbox and helps you leverage LinkedIn.
---
1. Become a sales superstar with the extension
Here is what you'll be able to do with your Amplemarket Extension:
Enrich Leads: Get contact information like first_name, last_name, company_name straight from your email inbox.
Reply Sequences: Choose a reply sequence template from a dropdown and use it to send recurring, personalized replies to your prospects directly from your inbox.
Conversation information: Get contextual information about every prospect by being able to understand which campaigns you used to engage with them and all the reply sequences you have used thus far.
Import leads from LinkedIn: Prospect leads on LinkedIn/SalesNav and import them into your Amplemarket account.
Extract leads from LinkedIn Posts: Extract leads that liked and commented on LinkedIn posts.
Send LinkedIn Voice Messages: Send a voice message to your prospects through LinkedIn.
Automate LinkedIn Actions: Automatically visit, follow, like a post, or connect with the prospects included in your email cadences.
NOTE: make sure you are using Google Chrome, if you are not, open it or you can install it here.
2. Instructions to install the extension
1. Go to the Chrome Store: Amplemarket Extension
2. Click "Install Chrome Extension"
3. Select "+Add to Chrome"
4. Confirm that you want to add the extension in the pop-up window ("Add Extension")
How to Confirm Installation:
Enter into your Gmail account and you should see the Amplemarket hook on the right side of your screen. When you click on the Amplemarket hook the extension opens on the right-hand side. You should see the following:


Another way to confirm the extension was installed is by checking if the blue Amplemarket logo appears on the right-hand side of your screen while browsing on LinkedIn.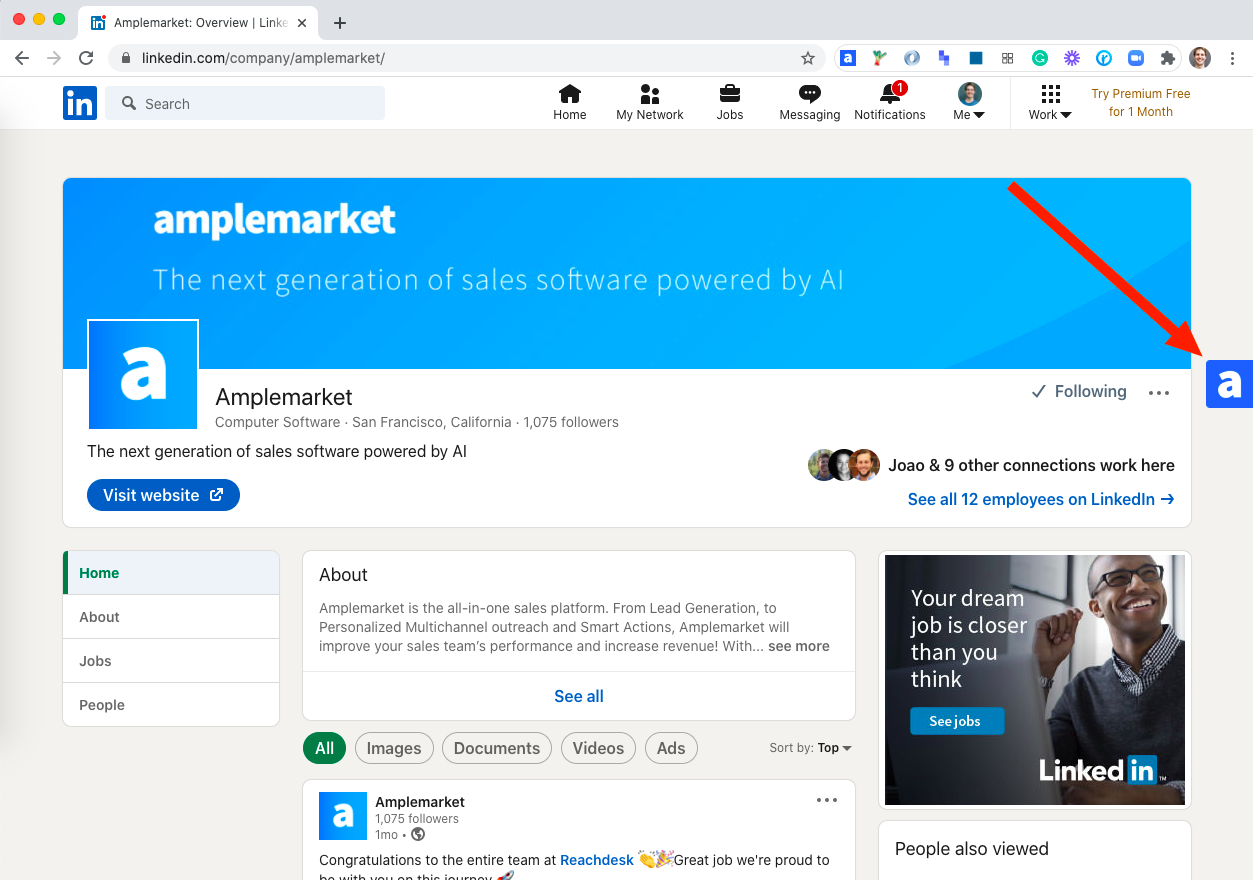 NOTE: If you are experiencing any issue with the extension please go through the steps explained in "Resolve technical issue with the Chrome Extension"