The Overview Page lets you have a birds-eye view of all the activity that's happening in your Amplemarket account.
Note: Admins will view information regarding the activity of their entire team, whereas users will only view the activity of their account.
So, if you're starting your day and want to see what you have planned for today or the following week, you should find the information you need on the Overview Page, divided into 3 sections:
1. Stats Summary (Manage benchmarks in real time)
At the top, you can choose to view information regarding a certain period ("Today", "Last 7 days", "Last 30 days") for the following metrics:
New leads: number of new leads you have already contacted so far
Emails: number of emails you have sent out so far (first touches of a new sequence + follow-up emails of older sequences)
Open: average open rate of your sequences so far (opened emails / all emails) - for new leads only
Reply: average reply rate of your sequences so far (replied emails / all emails) - for new leads only
Interested: number of contacts tagged as "interested" so far
Meetings: number of contacts marked with "meeting booked" so far
Note: These numbers are useful to compare against your usual benchmarks for the time period you chose. If the metrics are considerably different than what you'd expect, review your campaigns to understand the source of the problem or success!

2. New Leads Volume (Manage volume and deliverability)
This plot gives you an idea of all the new leads volume sent out in the last 7 days and the scheduled volume for the next 7 days. Keep in mind that:
This volume only refers to first touches on new sequences
You should strive to maintain a constant volume over time without exceeding 30-50 new emails per mailboxes per day for deliverability purposes.

3. Activity (Manage your performance per campaign, user, or mailbox)
In this section, you see in detail the metrics for each sequence going out today and in the last 7 days.
Feel free to group metrics by mailbox, sequence, or user to better understand the overall activity in your team.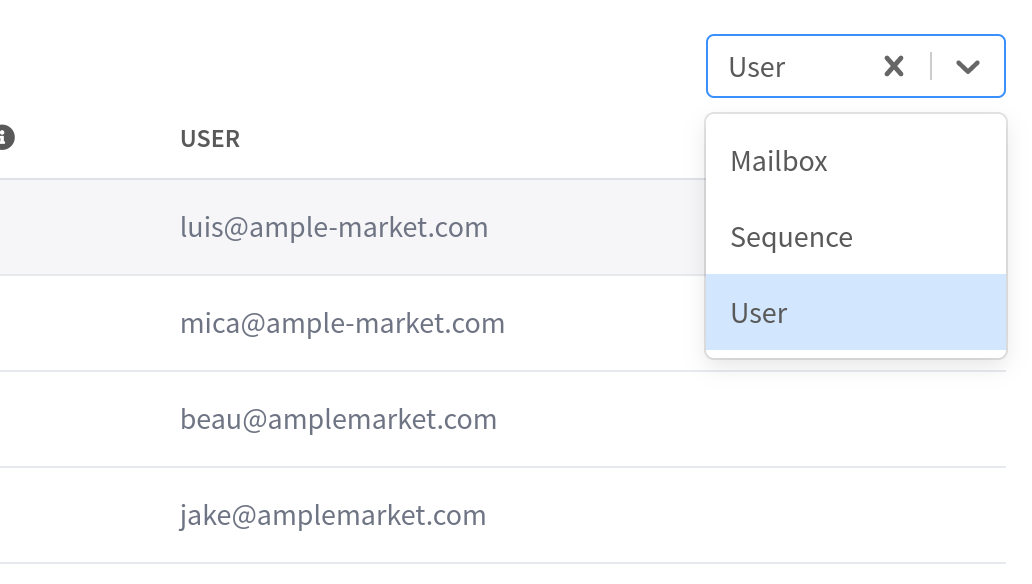 One last tip...
At the top of the page, you can choose whether you'd like to see the metrics for specific users, teams, our mailboxes. Select what you wish to analyze and the metrics will automatically change in the dashboard.