Calendar Appointments Enrichment
Do you want to have quick access to your meeting's attendees' information?
We are now able to automatically enrich your meetings' attendees with contact data directly on the calendar appointments' page. Imagine your leads add someone last minute to the demo, you will now know immediately which company they work for and what their title is.
Data about the organiser will also be displayed directly in your attendees' calendars! This way, your guests will immediately remember who they're meeting with and even get a quick access to your company website ahead of the demo.
Here is the information we will display about the event organiser and the attendees:
- Their name
- Their title
- Their location
- A link to their Linkedin page
- Their company name and a link to the company's website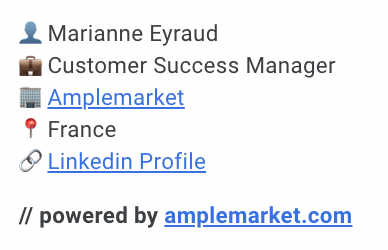 To activate this feature, head over to your
calendar tab
under account settings and enable the "Enrich Calendar Appointments" options.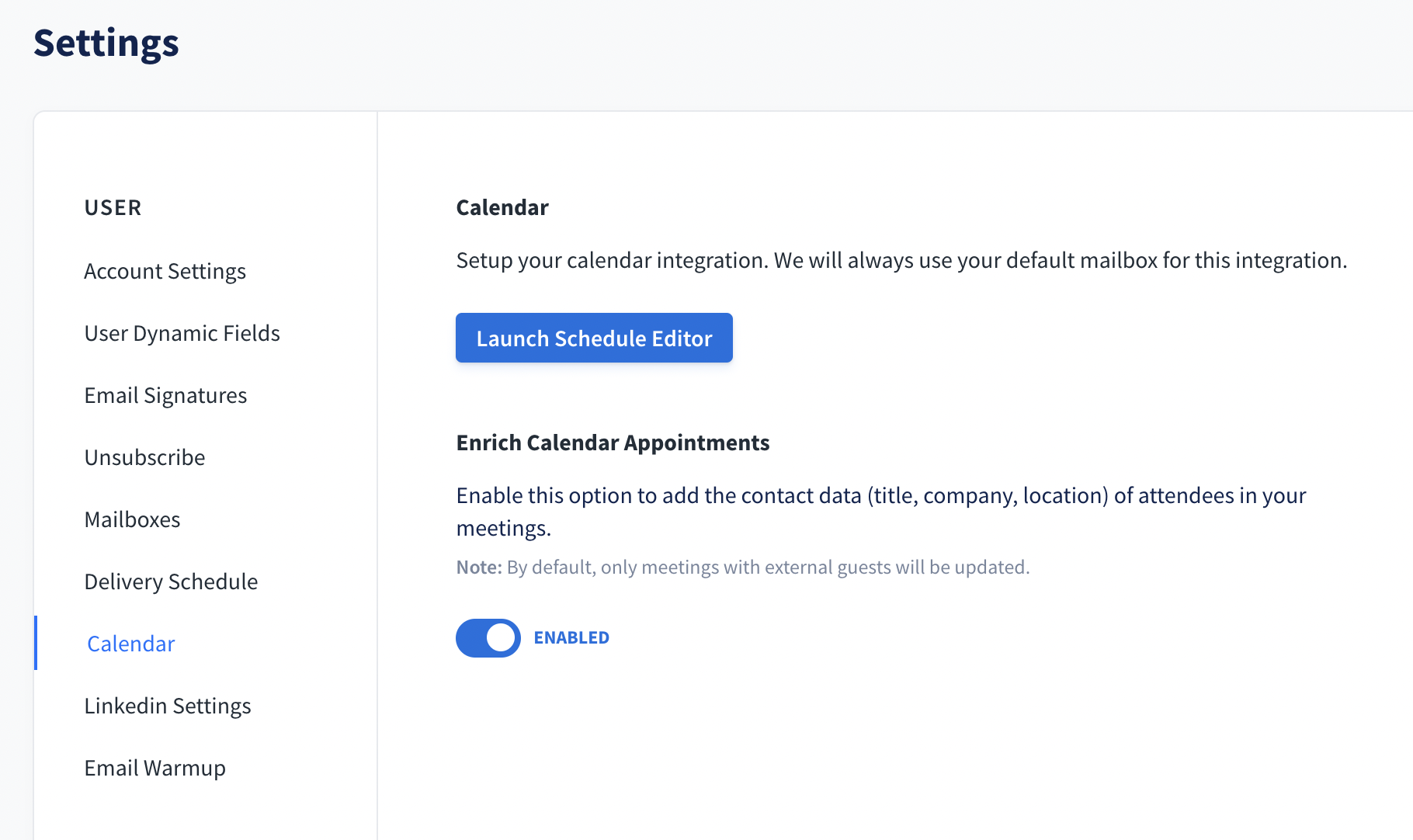 Once activated, eligible meeting appointments will be enriched directly within the calendars of all mailboxes you've connected to Amplemarket under your
mailbox tab.
Information on attendees will then automatically be added to the description of the meeting. The attendee informations will be updated as the meeting participants list is updated, whether it is by adding a new guest or by removing one. Enrichment may take a few minutes to come into effect.
This feature is optimised for Google Calendars and Outlook Calendars.
Once the feature is turned off, the enriched description will remain in the calendar invite. However you can simply edit the description and manually remove all information.

The following meetings are excluded from enrichment:
Internal meetings: all attendees share the organiser's e-mail address domain
Large meetings: over 7 attendees
Personal meetings: if all participants have a personal e-mail (e.g.: @gmail.com) - Note: the event will be enriched if we have at least one work email
Other organiser: meetings that were not created by the user's mailbox cannot be enriched